This is an update I've been meaning to post. This all happened before Kirstie and Patrick moved in. Late post. I knows!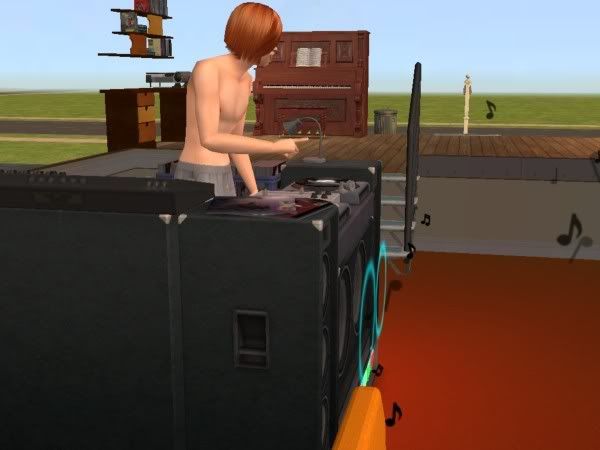 Lee totally approved of his DJ booth. Shame it slowed things down. I approved too.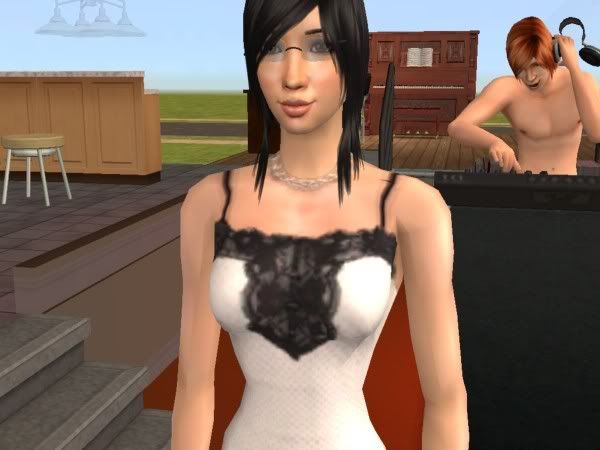 Peony loves to come to Lee's house. Do you blame her? Everyone comes to Lee's house!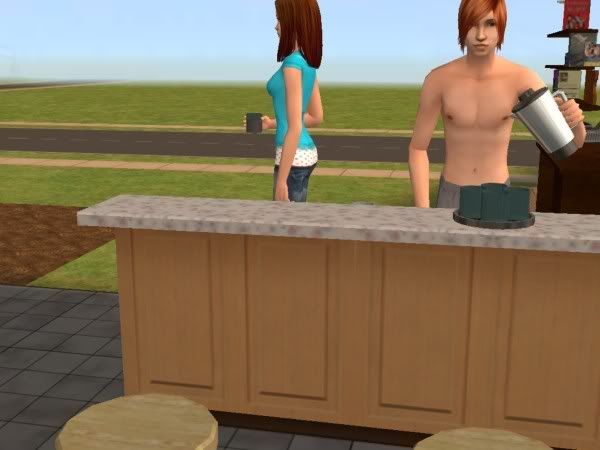 Everybody's favorite lushes. Lee and Si just can't get enough, can you guys? -tsks-
Mike doesn't like Peony. You better get used to it, bub.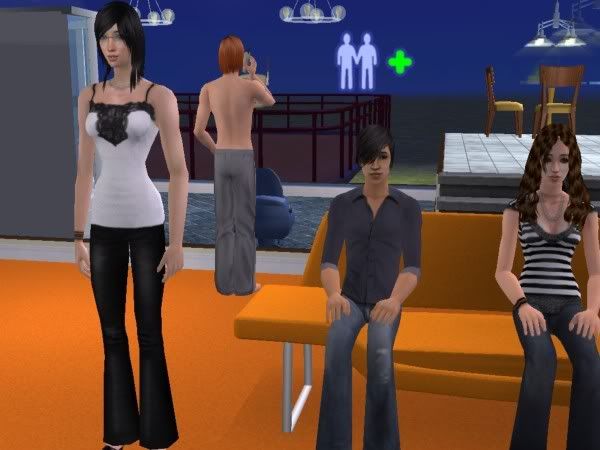 Shuddup Si. Peony is just standing around, quite awkward-like and Lee just leaves his guests to their own devices as he goes to answer the phone. It's his vampire friend. xD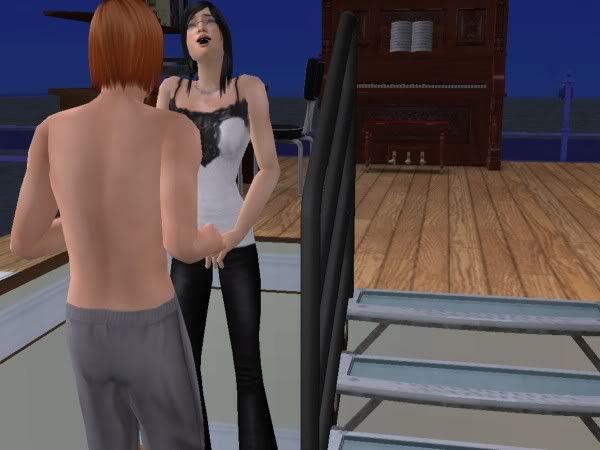 Lee later corners Peony =o She has a thing for red hair, I've noticed xD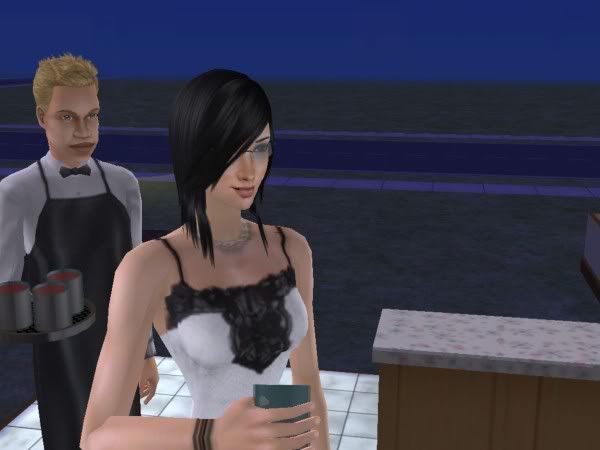 Lee threw a party and decided to also have a bartender come, to keep the drinks coming. Again. LUSH. xD
=o How'd this get in there?! -giggles-
The next day Lee decided to tryout his skating rink. Look at him! xD
He fell. -pets-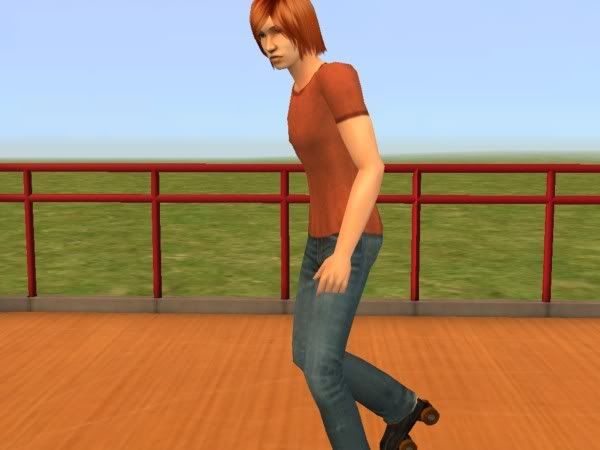 Look how hard he's concentrating. He wants to be the BEST, don't you know?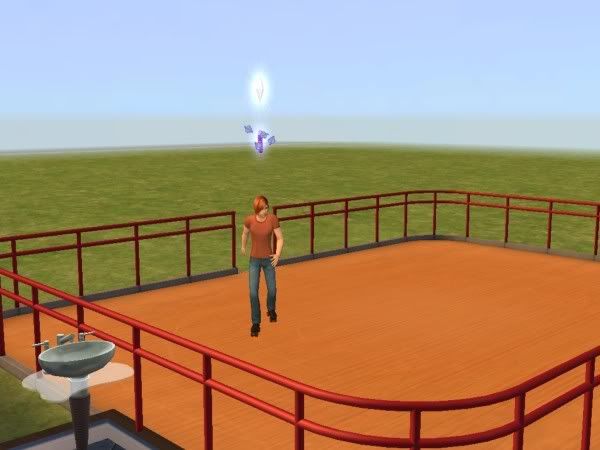 He kept at this for a few hours.
I'm not even sure who he's talking to. He talks on the phone a loooot.
Notice. Even the roller rink is orange xD
LULZ What is he watching?
The only house I've put effort into the outside xD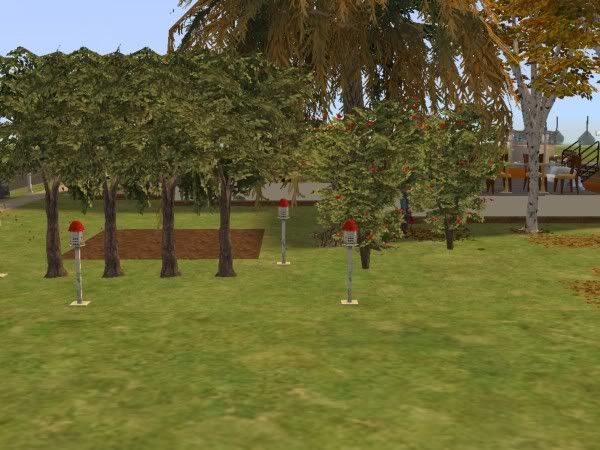 A better version of the yard. Teehee. I'm waiting for winter to end so I can harvest his fruits =D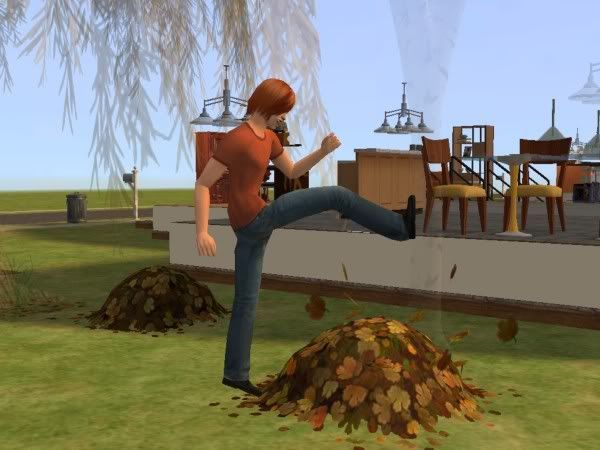 I had Lee rake up some of his falling leaves and this is what he did upo completion.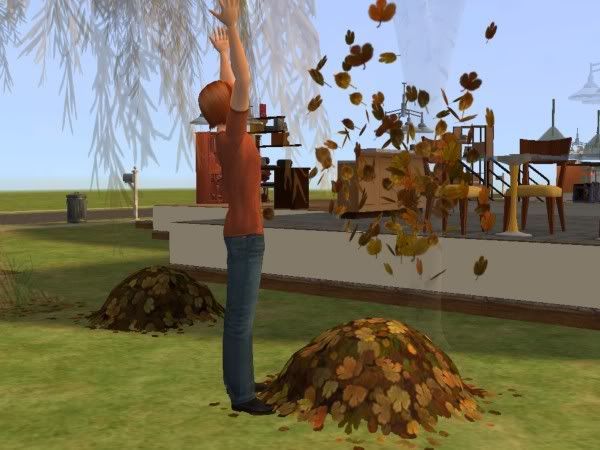 Seeeeee. Lee's house is the place to go. rofl No males here. ALL girls. Notice everyone thinking about Lee? -snort-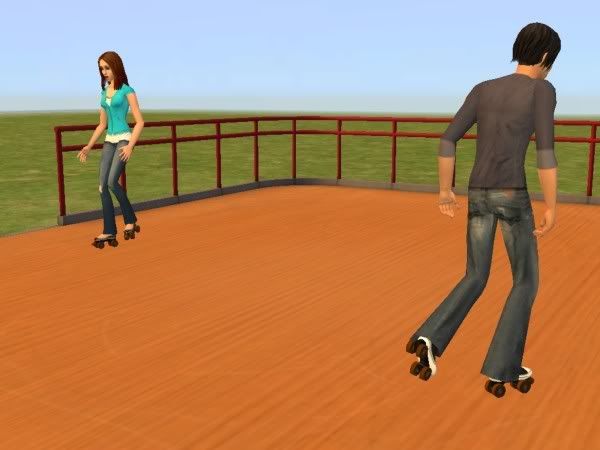 I love watching these two do sibling like things. Such as skating together. =D Teehee.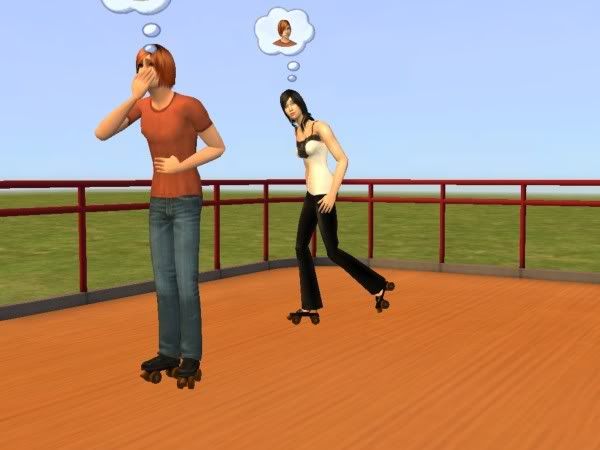 Lee suddenly thinks Peony is nastay. And proceeds to gag in her presence.
Now we join Ashlie and Peony at their house. After a long day of fishing, the weather starts to cool down. Notice the winter wear? =D And sparkly healthy food! -sparkle gleam yaaaay-
They get along fabulously. Of course. =D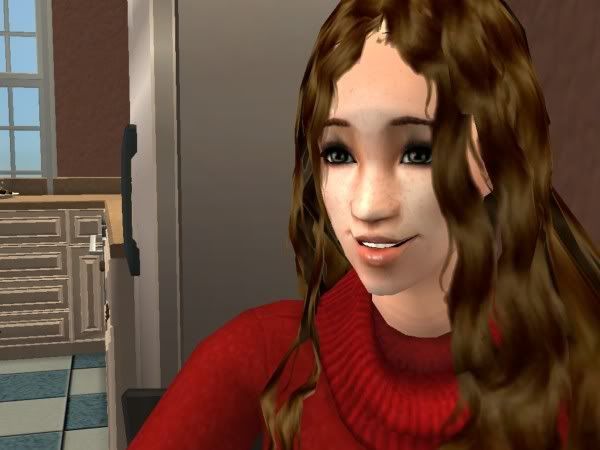 <.< She's just darling. =D
Ohhh looking. Ashlie and Peony have visitors. (Wait. What was the point of those pictures? Uh... there wasn't one? =D)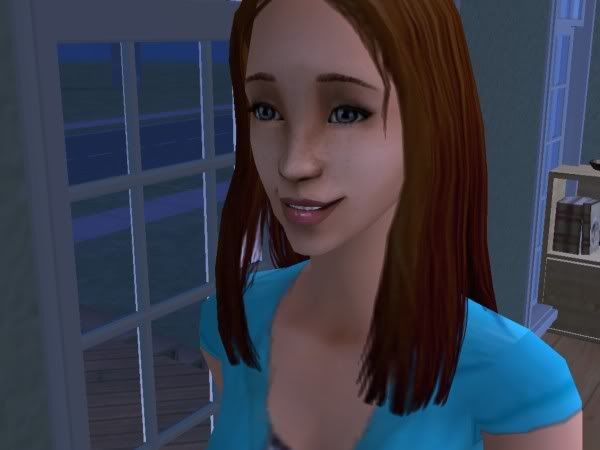 Again. Just because. =D
I'm not even going to bother with a caption. Leave it to Si.
So Si decides to butt in. rofl Ashlie doesn't mind, she likes to talk D:
Somehow... the kiss didn't connect o.O lmfao
It did that time. (That time. Yah. This happened NUMEROUS times. -grumblesaboutmysimstorturingme-)
She's happy xD I love those eyes. -reachy grabby fingers-
The next day I sent Peony to the green house to tend those plants. xD Look at all the weeds!
Si was passing by so of course Ashlie went out to say haai.
LOOK AT THE GOLDEN COLORS! I LOVE THE COLORS!
Not sure when Mike came over. Peony and Si are trying to watch the telly and there's Ashlie and Mike, being weird. o.O srsly. What ARE they doing? o.O
They just made out. LOLZ Peony decides to steal some of Ashlie's attention, cos Ash is kinda ADD.
Now we're off to Si and Mike's house. =o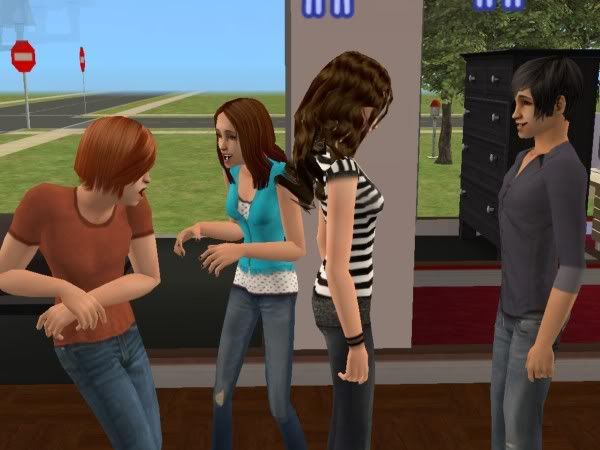 I looooove the look on Lee's face. :o Teehee. Si and he amused themselves.
Wait. When the hell did Lee come over? o.O
It's kinda ineviteable. -.- I'm sure there's a Theorem for it too; If Ashlie is in the presence of Mike snogging will commence.
This made me lol. Cos it's like Si is watching Mike snog Ashlie senseless. And Lee is just standing around. =D
I haven't yet built a house for Emma, but I did move her onto a lot so she'd meet people. What'd she do?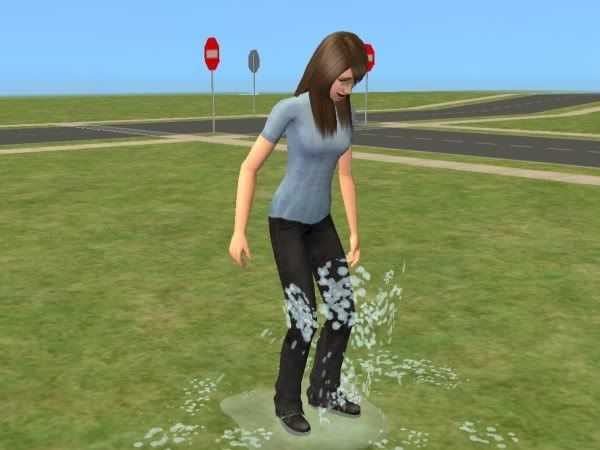 Splashed in rain puddles xD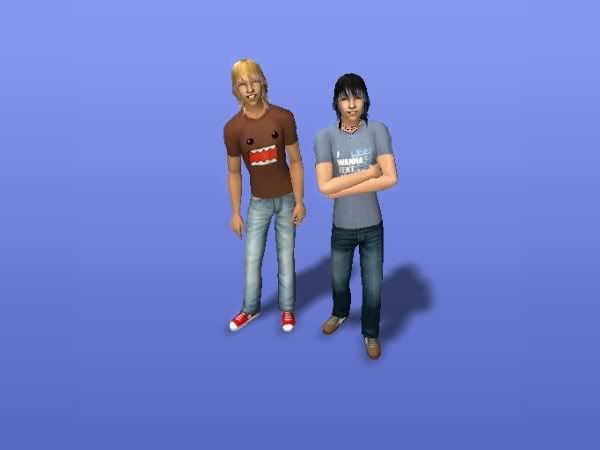 ...I forgot their names. BUT LOOK! MALES!
This MIGHT be Julia and Richard's house. I'm not sure. Anyway. Allegra came! Hiiiii! And... I think... Emma is... dancing? Flailing? o.O
Richard has a hot ride.
Julia gets a blue shirt. YAY BLUE. And curls. Because. Well. She's my sister and I say so :D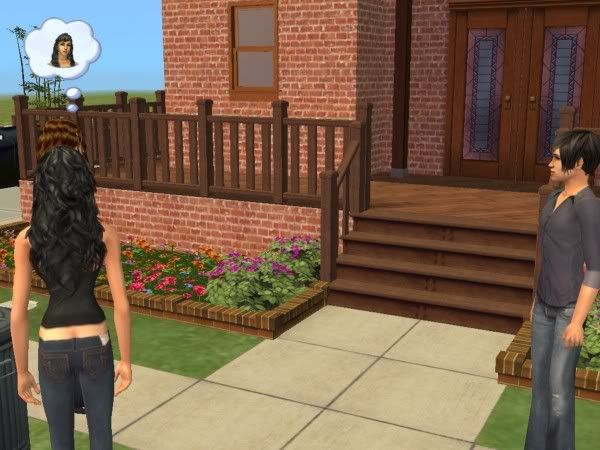 The Welcome wagon?
Ama, Mike, and Ashlie. Go figure.
Three guesses who this house belongs to. xD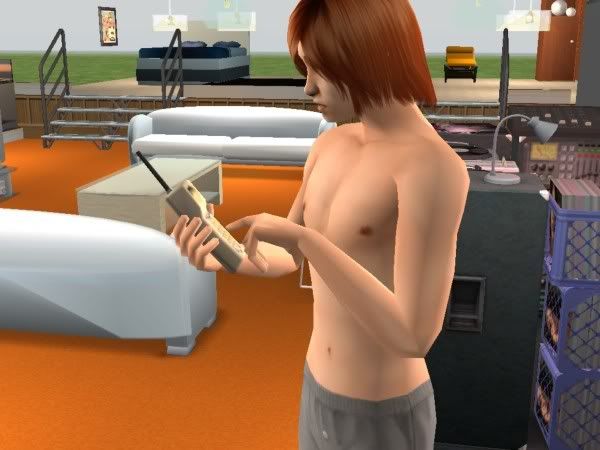 Yet again, on the phone. And shirtless =o
Yaaaay snow! Actually, the snow sucked cos it slooowed my game down further. rofl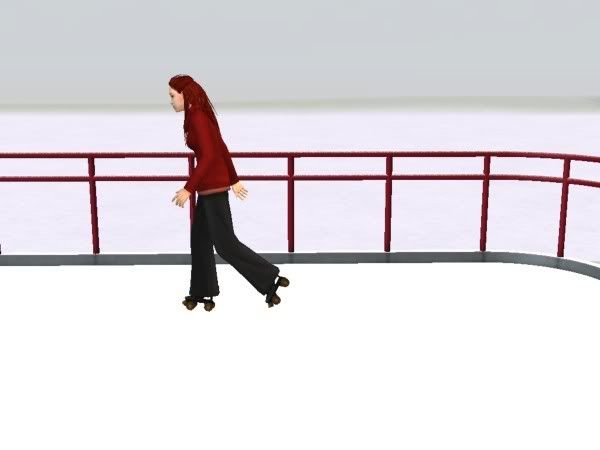 Allegra is kind of dumb. The roller rink is COVERED in snow. I repeat. SNOW.
Lee
You should be my best friend!
Ama is staring in a reeally creepy manner.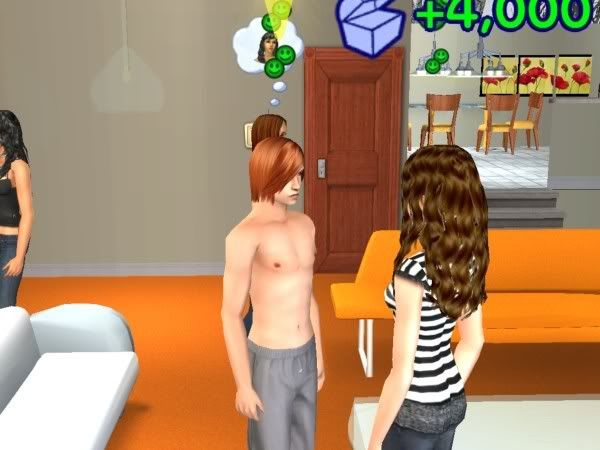 Ashlie
YAAAAY I'll be your best friends.
They're best friends xD
Ama got bored.
He invited everyone to hang out at his house. And Ashlie is... staring into space, I guess o.O Ama finally gets to talk to Lee :D
Lee's all MOVE BITCH to Allegra (who is a daughter of his o.O Remember the experiments? Yah)
Ama was pretty happy about the move. xD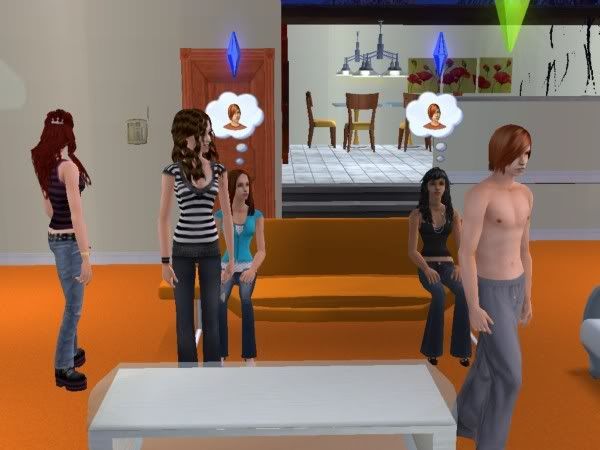 I love it when everyone thinks about him. Rawr.
WHO'S THAT GREY CHICK?!
Everyone, say hiiiiii to Countessa Amy. LEE'S VAMPIRE! Huzzah!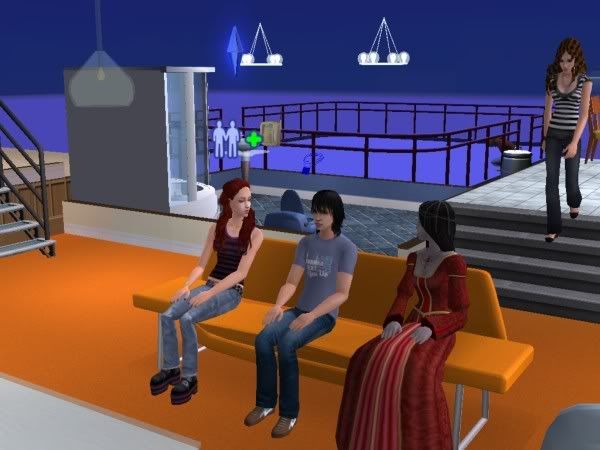 And nameless guy. Sorrrrry I forgot your name!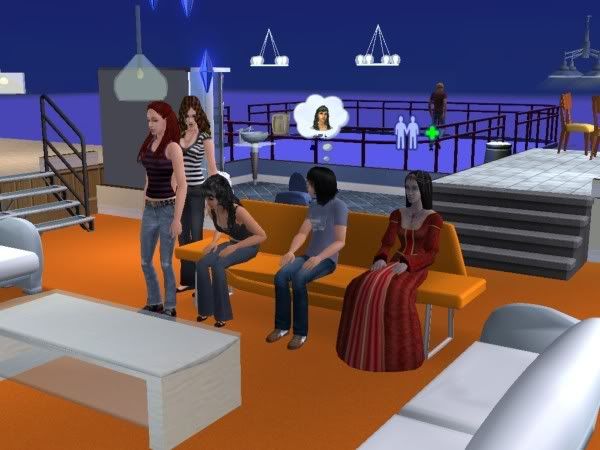 Yaaaay mingling.
Lee says Amy is hot.
In the bathroom. LOL
Lee
IT'S THIIIIIIIIIIIIIIIIIIIS BIG!