It seems we have had a lot of people moving into Dacaydance Views suddenly. Who could this new group be? Why does this red head seem so familiar? And why do we think "I'll be your number one with a bullet" when we see him?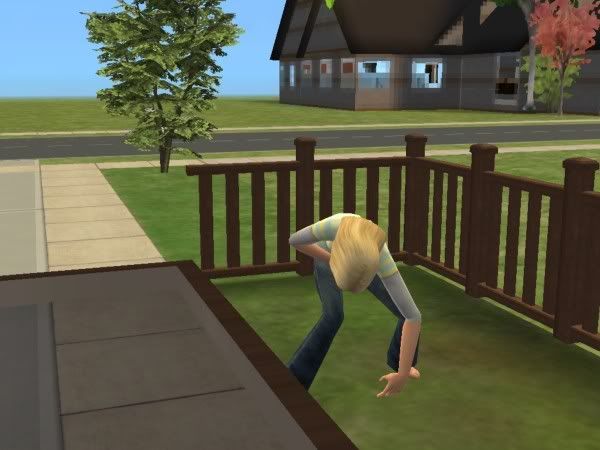 Who is this blonde? And what's she doing? HAS SHE BEEN SHOOOOT?!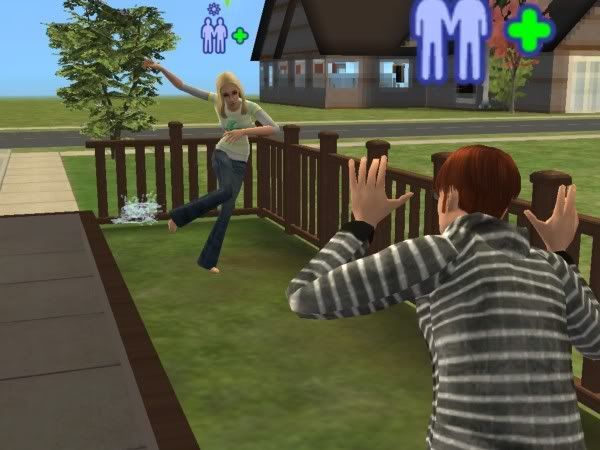 Oh! She's not been shot! She's having a water balloon fight! (I toterly love her outfit)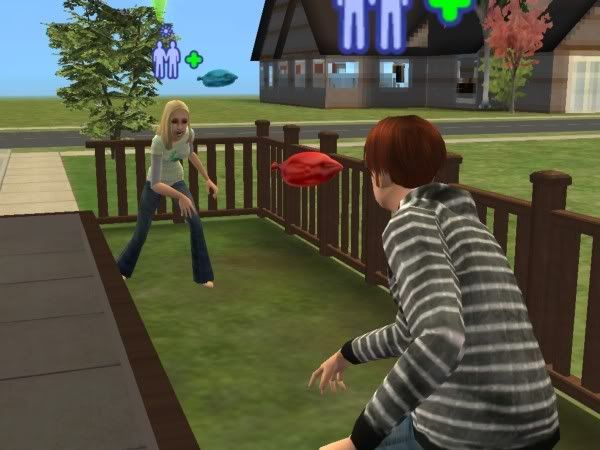 Ohhhhh I see! It's PATRICK!
Patrick
: I'VE BEEN SHOOOOOOOOT! -gaspwheeze-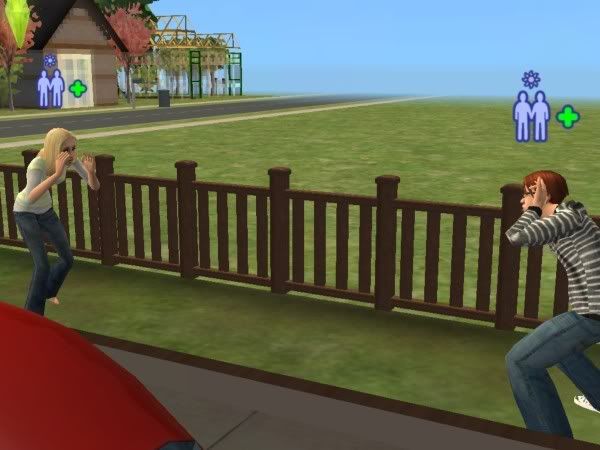 Nah nah nah nah nah naaaaaaaaaaaaah
Can't touch this!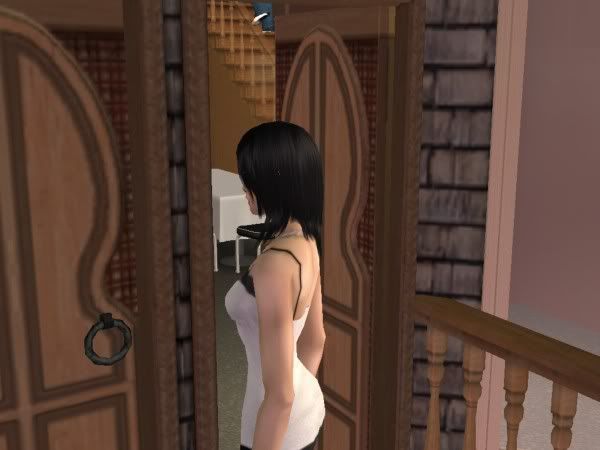 What's this?
Visitors! Guess guess guess who's on the Welcome Wagon! I was rather surprised, actually, because Sim!Peony is kind of shy and doesn't always like to go greeting. But she did. And who else came along with her?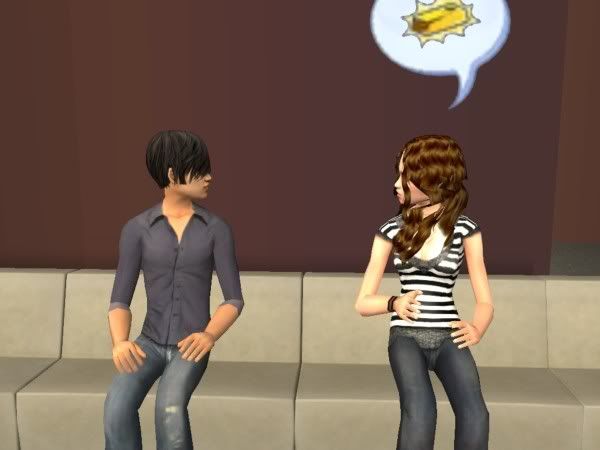 Duuuuuuhhhh. xD
Ashlie
: Do you have golds? I like the shiny D:
Kirstie:
Patrick and I got ourselves a new house! Isn't it lovely?
Ashlie
: Uhhhh.....
I just love the look on her face. I wish I'd zoomed in D: She's all "....o.O Whaaat? -hurt-!"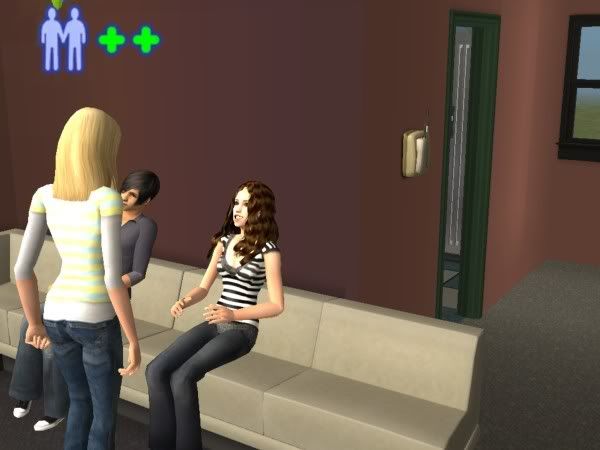 Ashlie
: It's... quaint!
Kirstie
: Yaaay friend points!
Peony was really beginning to freak me out. She earned points to talk to Patrick and would go out of her way to tickle him. I need to check buuuut. I think red hair is one of her turn ons =o
Patrick totally thinks we should all be peaceable. AMEN BROTHER STUMP!
He's such an animated Sim when he talks. I love it. I love his outfit, too. -shnuggles into his hoodie-
He could NOT believe that Peony would bring up old films. Hello! Welcome to the new millenium, yah?
Peony wasn't too pleased with that result.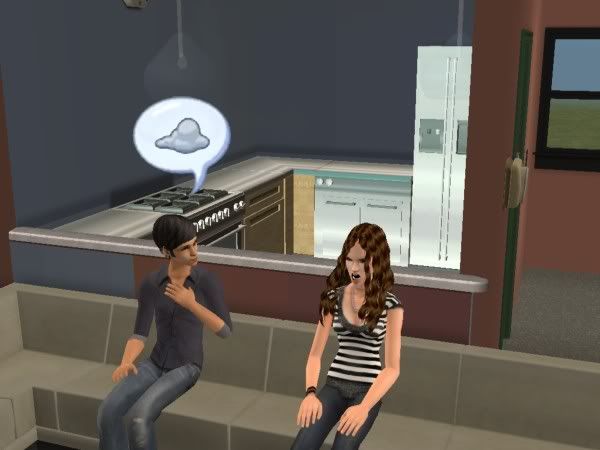 Mike
What do you think of the weather?
Ashlie
OMG HOW CAN YOU SAY THAT?!
I was vaguely amused that they went right into the house and sat down beside each other. I'm sure Sierra shares the amusement.
LULZ Mike made the same face Ashlie had.
What are you SAYING to them Kirstie? He's like, amused and afraid. ILOVEIT
Kirstie got bored.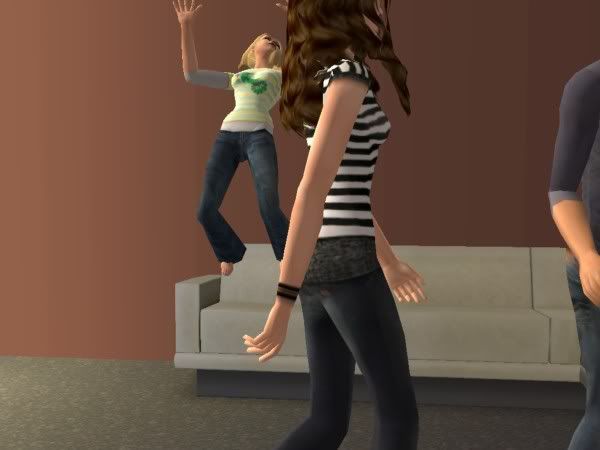 Ashlie was utterly enthralled with Kirstie. Kirstie has some maaad skills. (That was the first time I'd ever had a Sim play on the couch. I was utterly amused, if you can't tell. xD) Mike is shocked by the news? Cooking channel? Idonno. =D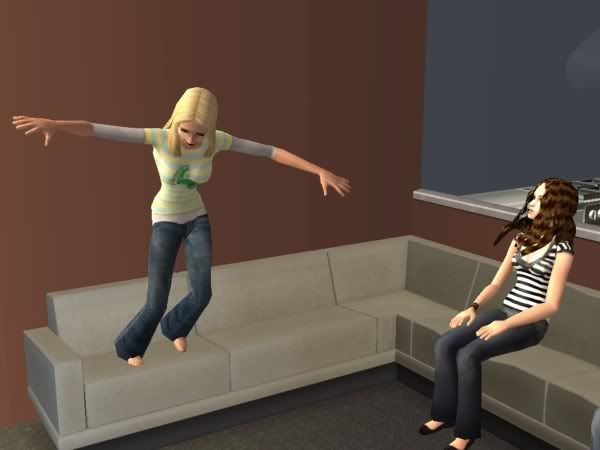 Kirstie
Zooooooooooooom! -flyyyyyyyyyy-
Ashlie
HOLYWOW
Kirstie
I looooooove this couch
Ashlie
She should never EVER have caffiene.
I agree with that.
I'm serious. I don't trust Peony with Patrick for one second. =/
I made them come inside. I get soooo sick of my Sims autonomously playing water balloons -.- Haha. Mike and Ashlie moved. Kirstie is cooking in her tiiiiiiny kitchen. (She and Patrick live in a town house. =D)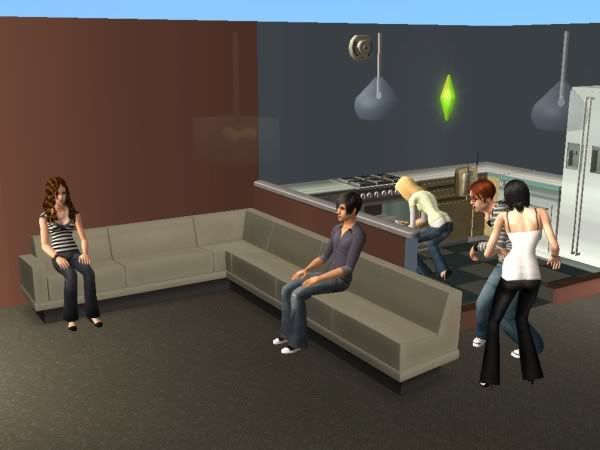 ....she's at it again. I fear for the Stump marriage =/
Who IS that? Anyway. Ashlie's all OHHH LALA HE'S HOT.
And Mike is like wtf! How can you say that?! Ohhh pain!
(There was supposed to be an episode before this but uh. It's not? Anyway. Mike and Ashlie have been snogging. Again. SHUDDUPSI)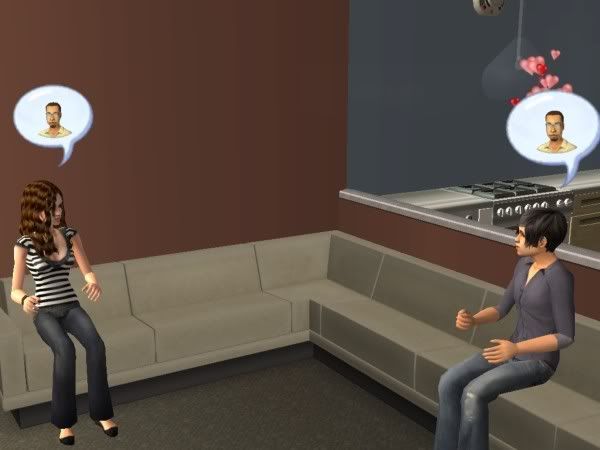 Whuuuuuuuuuuuuuuuuut?
Mike? You're bi? wtf
Anyway. Mike thinks he's hot too o.O
Then some random dude that Patrick and Kirstie didn't know called up and invited them to go downtown. I thought, why not cos I assumed Mike, Peony, and Ashlie would tag along. They didn't. o.O So when I sent Kirstie and Patrick home, THE WHOLE FREAKING GROUP CAME WITH. However. I did get this pic. =D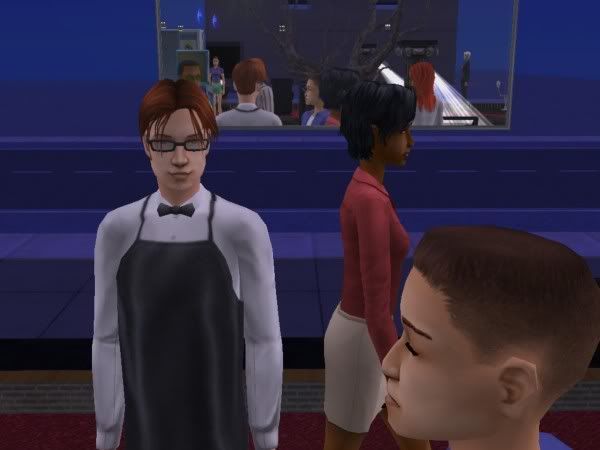 Patrick tended the bar. LULZ. <333321
Current Mood: dorky
Current Music: Sugar We're Going Down Swinging - Fall Out Boy